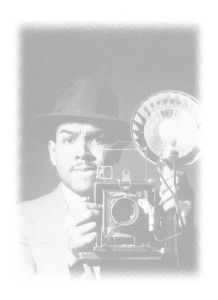 Robert H. McNeill was born in Washington, D.C., in 1917.  As a student at Howard University, he began photographing varsity sports events for Howard publications.  He realized that it was possible to make a living in photography when pictures he took of Jesse Owens, visiting Howard in 1936, were published in the next issue of every Washington newspaper.  That year he left Howard to study photography full-time and graduated from the New York Institute of Photography in 1938. That same year he was appointed as a photographic consultant to the Federal Writer's Project, where, he traveled throughout Virginia capturing his subjects in a variety of endeavors for the books The Virginia Guide and The Negro in Virginia, both published in 1940.  His photography during this period has been favorably compared by critics to the groundbreaking photo-documentary work of Gordon Parks.
When he finished his tour through Virginia, he established a photography studio in Washington in the heart of the vibrant Shaw community.  He was subsequently drafted into the Army during World War II and served at Ft. McClellan, Alabama, and in an ammunition ordinance company on Guadalcanal, ending the war with a commission as a Second Lieutenant. When he returned to Washington, he continued his freelance and studio business which supplied photographs of East Coast news and sporting events to five major black weekly newspapers. He was also commissioned by the United Negro College Fund to compile more than 250 photographs documenting the efforts of eleven of its member colleges to establish post-war veterans' educational programs.
Between 1950 and 1956 he was a staff photographer to several military departments and in 1956 became a photographer for the Department of State.  He served during the tenure of six Secretaries of State and took the official photographs of Secretaries Rusk, Kissinger, and Vance.  In 1978, Mr. McNeill retired from the State Department as Chief of the Photography Branch, Audio-Visual Services Division.  McNeill was also a retired Major in the U.S. Army Reserve.
In recent years, Mr. McNeill's photographs have been widely exhibited due largely to the efforts of McArthur Fellowship Award Winner Debra Willis, who while working with the Smithsonian's African-American Museum Project, recognized McNeill's artistry and vision.  His work was presented in 1983 and 1984 in A Century of Black Photographers, a national traveling exhibit sponsored by the Rhode Island Institute of Design.  In 1985, his photographs were shown in Chicago and Los Angeles as a part of the exhibit, The Black Photographer:  An American View. In Washington, his work was on exhibit at the Sumner School in 1989 and at the Smithsonian Institution's Anacostia Museum in 1991.  His work was also a part of the 1992 exhibit To Achieve These Rights, a photographic essay on desegregation in Washington.  In 1994 and 1995, his photographs were featured in the heralded exhibit, Free Within Ourselves, at the National Museum of American Art, and in 1996, a large body of his work was featured in Visual Journal, a major exhibition of the Smithsonian's Center for African American History and Culture.  In the fall of 1997, Mr. McNeill's photographs of his boyhood neighborhood formed a major part of the Washington Historical Society's Remembering "U" Street street-arts project.
His photographs of Washington in the 1930s and 40s have also have been featured in local television documentaries, on Black Entertainment Television, and were the focus of a German public television documentary in early 1998.   McNeill's photographs have also been a significant resource for The Washington Post Magazine's former feature "Backlight", which highlighted unique moments in Washington history.  McNeill has spoken and lectured on Washington during the 1930s and 40s, including an appearance on National Public Radio.  He had also been a lecturer and photo competition judge for the Greater Washington Council of Camera Clubs.
In 1997,  McNeill was selected as Photographer of the Year by the Fotocraft Camera Club of Washington, and received the Maurice Sorrell Lifetime Achievement Award from the Exposure Group of Washington, in 1998.
Within the last few years his photographs have appeared in: Posing Beauty: African American Images from the 1890's to the Present, Debra Willis' book and traveling exhibit which opened at the Tish School of the Arts, NYU, (October 2009, closing at the Virginia Museum of Fine Arts July 27, 2014); and the Smithsonian Museum of American Art: African-American Art: Harlem Renaissance, Civil Rights Era, and Beyond, April 27 – September 3, 2012.
His photographs were also featured in the  Museum of Modern Art's exhibit: One-Way Ticket: Jacob Lawrence's Migration Series and other Visions of the Great Movement North, April 3–September 7, 2015. https://www.moma.org/calendar/exhibitions/1495
December 19th, 2018, was the centenary of McNeill's birth. It was a time to recognize that his images have endured into this Century and are still relevant to the Washinton D. C. area and beyond, as they captured the reality of pre-and post WWII life inside the African-American community. 
Five Smithsonian Museums have shown his work.  A collection of 16 vintage prints, donated by the Washington Post Corp., was acquired by the National Museum of African-American History and Culture for their permanent collection.https://nmaahc.si.edu/explore/collection/search?edan_local=1&edan_q=robert%2Bmcneill&  One of those, "Hammond Dance School", has been on display. Other of his works have been used in the NMAAHC exhibit on fellow photographer Robert Scurlock, and in the Museum's donation to the Google Cultural Institute's world fashion digital exhibit. In 2017 and early 2018, the Smithsonian's National Portrait Gallery (in "The Sweat of their Face") showed his image of a stevedore taken in Norfolk, Virginia in 1938.
An important step in the refocusing of his legacy occurred at the reopening of the redesigned and re-concepted Museum of Modern Art (NY, NY) in 2019, where McNeill's 1938 Negro in Virginia images were shown directly adjacent to Dorethea Lange's iconic Depression-era Migrant Mother. (All of the prints in MoMA permanent collection can be seen here: https://www.moma.org/artists/45744 ) The MoMA opening event was followed shortly by a show of his 1938 Negro in Virginia images at Richmond's Virginia Museum of Fine Arts in 2020. https://www.vmfa.museum/exhibitions/exhibitions/robert-mcneill-african-american-life-virginia/ Subsequently, 53 of those vintage and life prints were acquired by the museum.